Ancient Ruins
Page last edited 1,901 days 23 hours ago
From Pika Fanon
Ancient Ruins (セイジ遺跡 Sage Ruins) are located in Hora. They are located on the outskirts of Sage City.
Geography
[
edit
]
Outside the Ruins
[
edit
]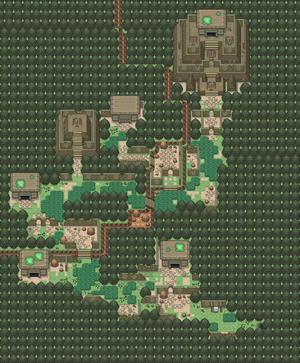 Outside of the ruins, the area is thick forest, and there are multiple patches of tall grass where wild Pokémon thrive. Multiple buildings that existed here are now decaying and crumbling, including several pyramid like buildings, though the tallest one remains standing. Stones and fallen boulders lie around on the ground, making the area difficult to traverse. Due to it's forest like nature, many Flying-type Pokémon populate the area, and it is home to a type of Pokémon thought extinct.
Inside the Ruins
[
edit
]
Like all ruins, the walls are engraved with images of the Unown are carved on the walls, and the Pokémon themselves can be found here.
Pokémon
[
edit
]
Outside the Ruins
[
edit
]
Inside the Ruins
[
edit
]
External Links
[
edit
]