Jalyn
Page last edited 1,896 days 4 hours ago
From Pika Fanon

| | |
| --- | --- |
| | This article, Jalyn, is property of Ten Tailed Fox. Please do not edit this article without the owner's permission. |
Jalyn (ジェイ, Jei) are Contest announcers in the Hora region. They replace Marian, Vivian, and Lilian from Sinnoh, Kanto, and Hoenn respectively.
Overview
[
edit
]
Like Nurse Joy and Officer Jenny, Jalyn is not just one person, but a multitude of identical, related, women, who work as announcers for Hora's Pokémon Contests.
Character
[
edit
]
It is highly suggested that Jalyn all originated from Dahlia City, where the Grand Festival of Hora is held, but there is no definitive evidence of this. A Jalyn lives in each town or city, in Hora, in which a Contest Hall is located.
History
[
edit
]
Light & Dark

[

edit

]
The Jalyn of Gardenia Town was the first to appear in the series. She judged the Gardenia Town Contest in First Pokémon Contest and a new Rival!, in which both Silus and Jason Reid competed.
Though not shown, a Jalyn is presumed to reside in Crocus City, as a Pokémon Contest took place there in Brave for Braviary!.
A trio of Jalyn sisters is set to appear in the upcoming Tour de Kardinal.
Songs of Victory

[

edit

]
In this series, which shares a continuity with Light & Dark, a Jalyn appears and hosts a Contest on Route 5 in Second Contest! A new rival?!?. Jason Reid and Amelia took part in this particular Contest.
Pokémon
[
edit
]
These are the Pokémon that have been seen accompanying a Jalyn at one point or another in the series. Unlike Nurse Joy, their choices in Pokémon does not seem to be uniform to every Jalyn.
On hand
[
edit
]
Appearances
[
edit
]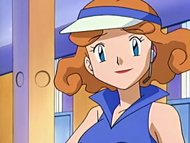 Originally, Jalyn was to be a woman named Arian, meant to be a sibling of the original MC sisters, however, this was scrapped in favor of giving Hora a more unique announcer to itself.