Tropi Archipelago
Page last edited 1,849 days 17 hours ago
From Pika Fanon
Tropi Archipelago
一連群島地方
Ichiren Guntō region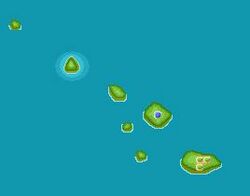 The Tropi Archipelago
| | |
| --- | --- |
| Introduction | Fanon |
| Professor | Unknown |
| Starter Pokémon | Unknown |
| Regional Villains | Team Rocket |
Anime

Series
Fanon
Season(s)
None
Games

Generation
Gens I-V
Games
Wiki
Tropi Archipelago (一連群島 Ichiren Guntō, lit. Chain Archipelago) is a large chain of tropical islands. It is the newest addition to the Hora Region, having joined only recently. It is located south-west of mainland Hora. These islands do not have a League of their own as they are with the Hora Region, sharing the Hora League.
Geography
[
edit
]
The five Tropi Islands are located to the south-west of mainland Hora. Three of the five islands all have settlements. The islands are named after fruit.
The last two islands do not have settlements, and are home to many wild Pokémon.
Faraway Island is located very close to the Tropi Archipelago, but is not counted as a part of it, and therefore does not show on the map. The Shiny Mew and the Mew who befriended Yianni live here.
The Tropi Archipelago is based off of the Hawaiin Islands both in formation, location, and in that the Tropi Archipelago is the newest addition to Hora just like Hawaii is the newest of the U.S. states.
Due to the islands tropic nature, some Pokémon are colored differently, while not being Shiny. An example of this is Jason's Butterfree, who originated from these islands.
External Links
[
edit
]